The notice in the newspaper intrigued me. It called for volunteers to help with a hot air balloon race, which was taking place in a few days in a nearby park. I remember thinking, "Hmmm. Maybe I could use this experience in a novel someday." We lived in Winnipeg, Manitoba, Canada at the time, and my children were small, but I talked my family into volunteering with me, thinking it might be a fun experience. And it was!
We were assigned to a balloonist on the day of the race, and our first task was to help him unload the wicker gondola, burners, fans and a huge canvas bag from the back of his pickup truck. Then we set to work pulling the enormous balloon from the bag and spreading it out on the ground. And I do mean enormous! It could have covered our entire house. Next, we set up fans in front of the balloon's opening and held it open like a huge mouth until the cavity was filled with air. My husband and another volunteer held onto the guide ropes at the top of the balloon so it wouldn't blow away before we were ready.
Meanwhile, the balloonist set up the gondola and burners, and attached them to the balloon, which was rising up as it filled with air as if coming to life after a long slumber. In fact, we were surrounded by swelling balloons on all sides. What a magnificent sight!
The balloonist had warned us to cover our ears when he fired the burners but I forgot, and the sudden roar made me jump out of my shoes. The warm air from the burners gave the balloon lift and it rose to its full height, tugging against the ground ropes as if ready to soar. It was time for the pilot to jump aboard and take off along with all the others. They would be sailing on the wind and following a chase balloon, which would be dropping a marker flag somewhere in the countryside, wherever the wind took it. The balloon that managed to drop a flag closest to the marker would be the winner.
Our pilot's gondola was very small, so none of us got to ride with him. But as soon as he took off we became his chase team, following along behind him in his pickup truck so he wouldn't be stranded in the middle of nowhere when his fuel ran out. The chase was an adventure in itself! We had to watch the skies and the roadway at the same time, always trying to keep the balloon in sight. Winnipeg is divided by two rivers, so we had to backtrack a few times in order to find a bridge across them. Things got exciting with all three kids searching the skies until we spotted our balloon once again.
It landed safely in a farmer's field outside of town, and he was very happy to see us roll up a few minutes later in his truck. After we helped him stuff the gigantic balloon back into the bag and reload all of the equipment, he drove us to the park to retrieve our car. All in all, it was a fun way to spend a summer evening, and the experience of a lifetime for our family. Years later, one of our kids confessed that he took adventures like that one for granted when he was young. It wasn't until he spent time with his school friends that he realized not everyone's mother was a crazy writer who volunteered for outrageous experiences like this.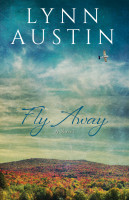 And guess what? If you read my newest book, "Fly Away," you'll find that my characters also volunteer for a hot air balloon race. Nothing is ever wasted in the life of a writer! "Fly Away" was successfully launched four days ago as an e-book and in print. An audio version is also in the works. It tells the stories of two very different people—one learning how to live and the other how to die. But it isn't a sad book at all. In fact, my early readers tell me they laughed out loud in places. If you would like to enter for a chance to win one of two free copies, be sure to join my newsletter by adding your email in the box on the right side of the screen and scroll all the way down and leave me a comment below.
And while you're waiting to see if you win, be sure to check your local newspaper like I did to see if there are any interesting adventures you can volunteer for. You don't have to be a crazy writer (or one of her children) to have fun. Enjoy!