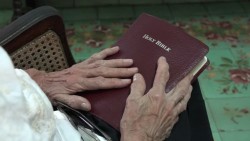 When I think of the many Christian women who've inspired me, I always think of my paternal grandmother. I used to spend a week or two with her during summer vacations when I was a girl, and even though we were both eager to start each day together, Grandma always spent time with God first, reading her well-worn Bible and praying. Her faithfulness made a deep impression on me.
Sunday was the Lord's Day, and I loved going to church with her. She was a lifelong member and a gifted pianist, playing for worship services and singing in the choir. My dad sang in the choir too, and thanks to Grandma, he had a perfect record of Sunday school attendance up to the day he enlisted in the U.S. Navy at age 18 to fight in World War II. He was Grandma's only child, and I believe her prayers kept him safe during those years. As scripture says, "The prayer of a righteous man is powerful and effective" (James 5:16).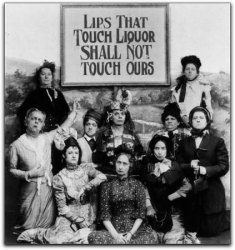 Grandma was a teetotaler her entire life. She joined the Women's Christian Temperance Union when she was 16 and took the pledge to never touch a drop of liquor. Following the motto, "Lips that touch liquor shall not touch ours," young temperance women vowed never to court or marry a man who used alcohol. Grandma married my grandfather when she was 25 and I never saw him drinking alcohol, either.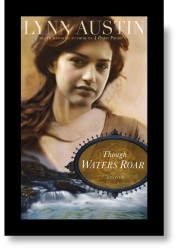 While researching one of my novels, I came across some fascinating information about the WCTU and it gave me even more admiration for my grandmother. I decided to feature this women's organization in my novel, Though Waters Roar.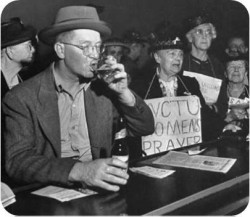 The Woman's Christian Temperance Union was started in 1874 by a group of women who had firsthand experience of the evils of alcohol, often from family members such as their husbands, fathers or sons. At that time in America there was one saloon for every 300 people. In some towns, bars outnumbered all the schools, libraries, hospitals, theaters and parks—added together. The ladies of the WTCU vowed to do something about it. They held prayer meetings and vigils outside popular saloons (in all sorts of weather) and even went inside sometimes, to shame patrons into going home to their wives and families. When the ladies succeeded in closing one establishment, they moved on to the next, doing their work "For God, for home, and for native land."
Carrie Nation, the wife of an alcoholic, took her protests a step further. She brought an axe to local train stations and smashed shipments of whiskey before the contents could be distributed. She was arrested numerous times, yet never quit.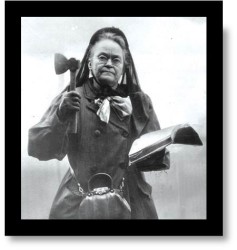 On January 29, 1920, Congress passed the 18th Amendment and the Temperance women achieved their goal of total prohibition of the sale of alcohol throughout the United States. Remarkably, these women achieved this at a time when they still didn't have the right to vote. Grandma was undoubtedly happy when the amendment passed—and likely disappointed when Prohibition was later rescinded in 1933.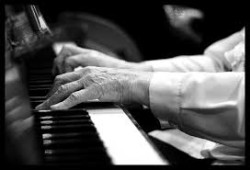 If I could go back in time and relive any memory with my grandmother, I would choose the hours we spent sitting side-by-side on her piano bench, singing our way through her well-used hymnbook. How I loved to watch her soft, graceful hands caress the piano keys and hear her rich alto voice, a little shaky with age, as she harmonized with my girlish soprano. She taught me to love those old hymns, and I still enjoy them today, especially Grandma's favorite, "What a Friend We Have in Jesus." Thanks to her, Jesus is my friend, too.