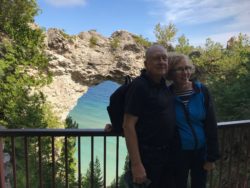 Last month my husband and I finally went on our long-planned summer vacation to northern Michigan. We were supposed to go last June but it had to be postponed due to a family medical emergency. Our good friends Jacki and Paul organized the entire trip and took us to some of their favorite places, with quaint towns, beautiful forests, and pristine lakes and beaches. Here are just a few of the highlights.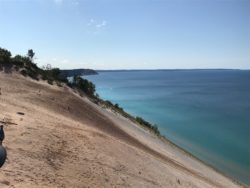 Lake Michigan at Sleeping Bear Dunes National Park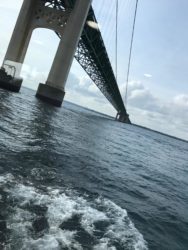 Beneath the breathtaking Mackinac Bridge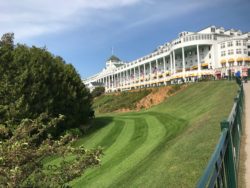 Mackinac Island and the historic Grand Hotel.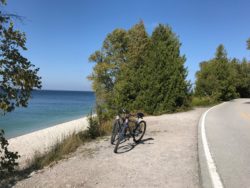 Biking in Mackinac Island State Park.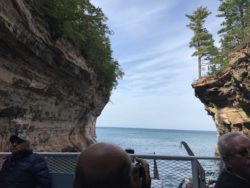 Pictured Rocks National Lakeshore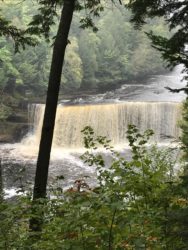 Tahquamenon Falls State Park
One of the added bonuses that made the trip especially fun was that our friend Paul is a geocache enthusiast. If you aren't familiar with the hobby of geocaching, Paul explains it as "the art of using million dollar satellites to find Tupperware in the woods." According to Wikipedia, geocaching is "an outdoor recreational activity, in which participants use GPS to hide and seek containers called 'caches' in specific locations marked by coordinates all over the world." It was my first time geocaching, and I called it fun!
Each of the places we visited in the photos above also had geocaches hidden nearby. If I'm already visiting a beautiful site like Tahquamenon Falls why not make it even more interesting by adding a treasure hunt?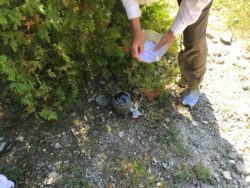 Here's a cache we found on Mackinac Island.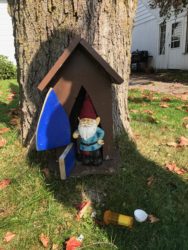 And another fun one in Sault Ste. Marie "hidden" right in someone's front yard.
I'm hooked! You can probably expect another blog about my geocaching adventures in the future. But what I loved about this hobby is that it taught me to open my eyes and take a closer look at my surroundings instead of what's directly in front of me. I can get so carried away with my camera that I end up seeing everything through that lens instead of looking at things in real life. The GPS coordinates would give the general area of the cache, but I had to look closer and notice little details in order to find what was hidden. Not only did caches come in all sizes and shapes, but some of them were hidden in very creative places. I learned to open my eyes and really see!
Geocaching reminded me of a lesson that our pastor has been trying to impress on us in his sermons lately: that every person on earth deserves to be treated with dignity because he or she has been created in the image of God. Scripture is clear on this: "So God created man in his own image, in the image of God he created him" (Genesis 1:27). Like a Master Geocacher, God has placed the treasure of His image in every one of us. Instead of merely noticing someone's outward appearance or behavior and judging them, I need to look for that hidden treasure of God's image. Many of the people I meet are beautiful inside and out, making it easy to find. For others, it may take a bit of searching on my part, but it's there nonetheless if I look hard enough.
And that's what I want to do. From now on, may God grant me the patience to stop looking through the narrow lens of my own prejudices and keep searching for that beautiful hidden treasure within every person I meet.