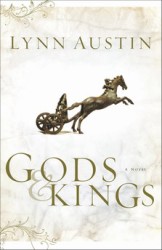 It's been in the news but you may have missed it during the busy Christmas season. Archaeologists digging near Jerusalem's Temple Mount have found a stamped clay seal that once belonged to the biblical King Hezekiah. As my readers know, I "wrote the book" on King Hezekiah—three books, in fact, and two more on his son King Manasseh. I used stories from the Old Testament along with my own research to create the five-book "Chronicles of the King" series about King Hezekiah's life.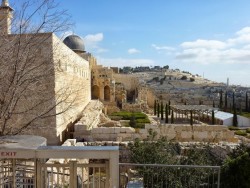 The clay seal that the archaeologists found was stamped with his name: Hezekiah son of Ahaz. It had once been used to seal a papyrus scroll, a document that was probably signed by Hezekiah himself. Archaeologists discovered it in a section of ancient Jerusalem where the king's palace once stood.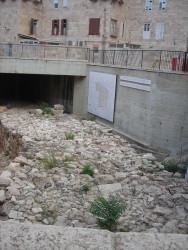 I love King Hezekiah! This descendant of King David and ancestor of Jesus Christ ruled from about 715 to 686 BC. And what a life he lived! A contemporary of the prophets Isaiah and Micah, he lived through the exile of Israel's ten northern tribes by the brutal Assyrians. In fact, so many refugees fled to Jerusalem that Hezekiah enlarged the city and built a new wall around it for protection. A portion can still be seen in Jerusalem's Old City. Hezekiah also dug a tunnel beneath the city to safeguard his water supply from the Assyrians, bringing water from the Gihon Spring to the newly built Pool of Siloam. He was in such a hurry to finish that his workmen began tunneling from both ends and met in the middle, an engineering marvel. It still carries water (and tourists) beneath Jerusalem.
But what I love most about King Hezekiah, and what inspired me to write all those books about him, was his faith—his imperfect, often wavering, but true-to-the-end faith. I was intrigued by the fact that his wicked father, King Ahaz, sacrificed his sons to the pagan god Moloch, yet Hezekiah launched a religious revival in the first month of his reign, purifying the temple that his father had desecrated. He invited everyone to return to God and celebrate Passover, which hadn't been kept in decades. Hezekiah's faith grew as he faced trials. When the Assyrians first attacked, he asked Isaiah to pray for him. When they returned a second time, he went up to the Temple and bowed before God himself, asking Him to save Jerusalem so that all the kingdoms on earth would know that He alone is God.
Hezekiah's newly-discovered seal depicts a winged sun. Several news stories questioned his use of a non-Jewish symbol. But knowing what I do of his life, I think it's a perfect symbol. Hezekiah became seriously ill and Isaiah told him to get his house in order because he was going to die. But Hezekiah prayed and God graciously granted him fifteen more years to live. As a sign that Hezekiah would indeed get well, God "gave wings" to the sun and caused it to briefly retreat backwards.
A few years later, the Assyrians surrounded Jerusalem and demanded Hezekiah's surrender. Isaiah convinced him to trust God, promising that He would save the city. During the night, the Angel of Death killed 185,000 enemy troops and "the next morning—there were all the dead bodies!" God's salvation from the Assyrians appeared as the sun was rising—just as centuries later our salvation through Hezekiah's descendant Jesus Christ would come at dawn on Easter morning.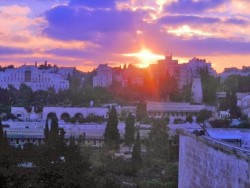 For a world that believes scripture is made up of fables and fairy tales, that its stories and people are fabricated and embellished, Hezekiah's newly discovered seal offers proof to those who doubt, that God's word is Truth.
For more information, try one of these links from December 4, 2015: colsoncenter@colsoncenter.org
http://www.timesofisrael.com/seal-bearing-name-of-judean-king-found-in-jerusalem/