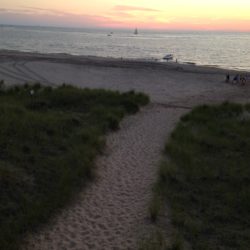 It's summer. I live within walking distance of the beach. I've waited many long months for beautiful weather like this and for leisurely afternoons to enjoy it. Most of all, I've waited for my family and friends to visit so I can do all of the wonderful, summer-y things this area has to offer. At the same time, I have a book to finish, a deadline to meet. These conflicting desires pull me in opposite directions. But I've learned a few techniques over the years, for staying focused on my book when I'd rather go jump in the lake.
Take the Baby Along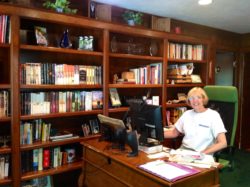 My daughter and son-in-law are brand-new parents. If they go to the park for a few hours or on a vacation to Colorado for a week (as they just did), they have to figure out how to take the baby along. Those of us who are parents understand how much planning (and equipment!) it takes for even the simplest excursion. I'm the parent of a book-in-progress. I can't afford to leave my baby behind for very long or I'll have to start all over again the way we do when we've read a few chapters of a book and then set it aside for a month. Now, where was I? Who are these characters, again?
I'm grateful to author Heather Sellers and her book "Chapter After Chapter" for teaching me how to take the baby along. (Chapter 19: How to Travel With a Book-in-Progress.) The key is to always remain aware of my "baby" as if she's napping in the next room. This involves advance planning. For example, when I have out-of-town guests, I plan small homework assignments for myself ahead of time that take only fifteen minutes or so, such as editing a chapter that I've printed out. If I'm off for an afternoon at the beach, I'll bring along a fun book to read that's related to my research. (Notice I said fun!) With a little bit of planning, I can keep my mind on my plot and characters even when the beach beckons.
Get Everyone Involved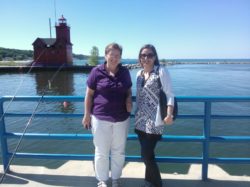 My family and friends are smart, fun people. They're also interested in what I'm writing and seem to enjoy talking about it with me. I've learned to take advantage of this "captive audience." My friend Cathy loves discussing my romantic story-lines, and she helped me brainstorm a future Christmas novella during her visit. My sister Peggy, a university English professor, read my novel-in-progress while here on vacation (bless her!) and came up with several wonderful plot ideas for me. I talked about my manuscript's spiritual themes with my son Ben and son-in-law Snir while on vacation in the Rocky Mountains and gleaned valuable lessons. Two of our out-of-town guests this summer were my German publisher Anne-Ruth and German editor, Kathrin. We did a lot of brainstorming together and they offered wonderful insights into what my readers enjoy about my books. (It wasn't all work, though—we also had a lot of fun!) And my friend Jacki was wise enough to help me reconsider some of my over-ambitious entertaining plans so I wouldn't burn out (she even volunteered to cook). I need all these friends! Writing a book shouldn't be a solitary endeavor.
Playing is Working
I can't count how many times I've had a creative break-through on my work-in-progress after I've walked away from my desk to go play. Creativity and play go hand-in-hand, and we're most creative when we abandon ourselves to it like small children. I know this, but sometimes I forget. My sweet husband helps me take creative breaks from my job when I'm hard at work. He packed peanut butter and jelly sandwiches for lunch one day and we cycled to a park overlooking Lake Michigan. Another day we cycled to a nearby hotdog stand for corn dogs and onion rings. Not the healthiest lunch, but a fun one, and I returned to my desk re-charged.
Balance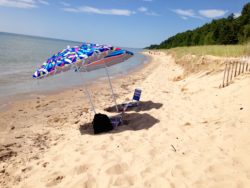 The bottom line is finding balance. I need to learn how to balance all the competing obligations and longings in my life in a way that brings both accomplishment and joy.
May your summer days be filled with wonderful work, laughter and love, family and friends. Enjoy!