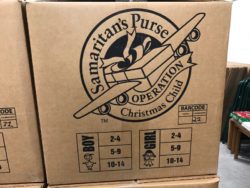 This year, our church was one of the drop-off points for "Operation Christmas Child," which is run by the international relief organization, Samaritan's Purse. Every year at this time, volunteers from all over the United States pack special shoe boxes with simple children's gifts, which will then be used around the world as powerful evangelism tools with children and their families. Sometimes one of these shoe boxes, packed with love, is the first gift a child ever receives.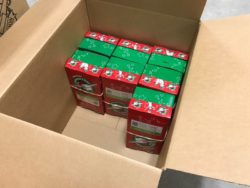 My job, along with my husband and our friends Paul and Jacki Kleinheksel, was to man the drop-off center for a few hours as people from our community brought in their filled boxes. We recorded the donations, wrapped rubber bands around the boxes to secure them, and packed them into shipping containers.
One kind gentleman from the community brought in 52 boxes. For the past year, every time he and his wife did their weekly grocery shopping, he faithfully purchased items to fill one box. By budgeting a small weekly amount, he filled enough shoe boxes to bless 52 children.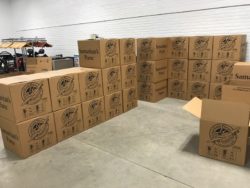 Another delivery was from a student representative at nearby Hope College. Her car was stuffed with 128 boxes that the college students had filled. "There are more boxes coming," she said, "but this is all I could fit in my car." It amazed me that busy college students, many of whom probably live on a tight budget, had donated their time and resources to help bring Christ's love to needy children around the world.
But the highlight of my evening was a young family with three small children, who delivered five boxes, one from each of them. The children beamed with excitement as they told us how they had gone shopping with their mom and picked out the items for their box all by themselves, choosing things they knew a child their age would enjoy. What a beautiful way for these parents to teach their children the joy of giving to others, especially at a time of year when children might be thinking only of themselves.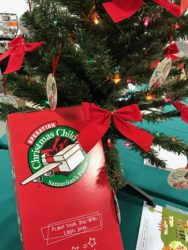 One of our jobs was to pray with the people who dropped off their boxes, asking God to bless the children who would receive them. I had tears in my eyes as the young mom and dad and their three little ones bowed their heads and prayed with us for "their" children, whose lives may be forever changed. And then, when I thought the moment couldn't possibly get any sweeter, the littlest boy looked up at us and said, "Know what? I gave my life to Jesus this week!" The angels in heaven were surely having a party!
It truly is more blessed to give than to receive. On the night before He was crucified, Jesus took off his robe and knelt down to wash His disciples' feet. He told them, "I have set you an example that you should do as I have done for you." He wants us to serve each other. He finished by saying, "Now that you know these things, you will be blessed if you do them."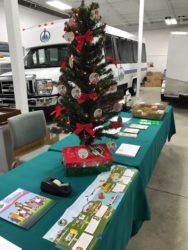 Jesus was right. I was richly blessed that night!
Is there a special way you and your family will share the love of Christ this Christmas season? I would love to hear your ideas!
If you would like to help Samaritan's Purse deliver Christmas boxes all over the world, click here to donate. Or visit them at www.samaritanspurse.org