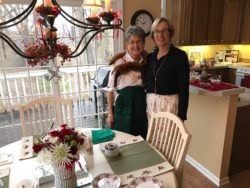 It's getting down to the wire. Christmas is coming and so is my book deadline. Right about now I get tend to discouraged, wondering if this book I'm racing to finish is any good, and if so, what the ending should be. I'm putting in long hours in my office, while at the same time, I'm conscious of Christ's advent and unwilling to let the celebration pass me by. My friend Jacki had the perfect solution to both dilemmas. "Let's have a tea party and invite some of your readers. And so last Thursday, we did.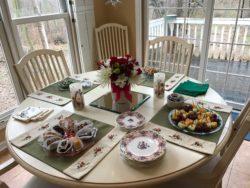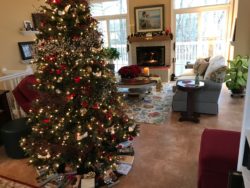 Seeing Jacki and Paul's house beautifully decorated for the season helped me relax and move into the season with thanksgiving for the gift of God's Son. And the new friends I met gave me the encouragement I needed in my sprint to the finish line. "Wear something fun," Jacki told the ladies she invited. Or bring a teacup or other item with memories. Three young sisters, Emma, Lauren and Sophie wore vintage dresses that young Emma had sewn all by herself. What talent! We decided that Emma's outfit and darling hat made her look like the model on the cover of my book, "Wonderland Creek." Sophie (and her doll) looked as though they had just stepped off the cover of "All Things New." And Lauren, with her cute dress and vintage shoes, could have posed for "A Woman's Place."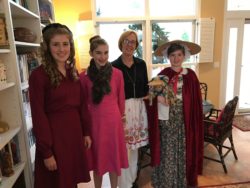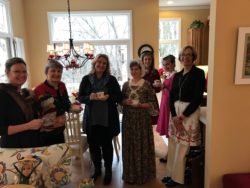 Jacki and Deb wore their mothers' fur wraps that were all the rage in the 1940s. Several ladies brought their favorite teacups, including one from a British antique shop that commemorated Queen Elizabeth's coronation in 1953.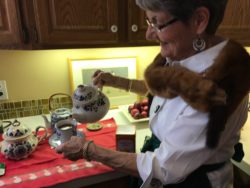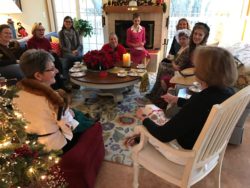 We asked the ladies to share some of their memories and stories with me (I never know when I might need a good story for a future novel), and I ended up hearing several very touching ones, including the Hallmark-worthy tale of how Maria met her husband, and how Norma's father paid a surprise visit home during wartime. I would tell you the details but I just might steal them for my next novel, and I would hate to spoil it for you.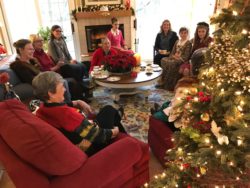 We all had a wonderful time, and I came home singing Christmas Carols and ready to add heart and love and wonder to the final chapters of my novel. So, thanks for sharing a cup of tea with me, ladies. And for reminding me what Christmas—and my novels—are all about.