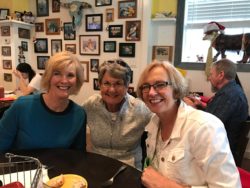 Everyone needs a best friend—someone to laugh with, cry with, and do fun and crazy things with. Today I'm celebrating some of my dearest friends.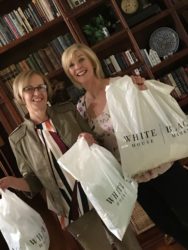 Friends like Cathy who has an amazing sense of fashion and loves to go shopping with me. I was tired of my same old dreary clothes, so Cathy trolled through my closet with me and helped me decide what I should donate to charity. Then we went shopping to re-fill all those empty clothes hangers. It was especially fun to find a 60% off sale in one of our favorite stores! I had a ball trying on clothes and buying a new outfit for an upcoming speaking event. Cathy is the one who first encouraged me to speak at church events years ago. She prayed with me and gave me the courage to do it.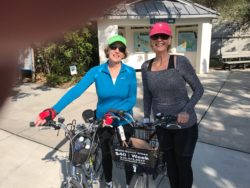 She is also my biking buddy. Along with our husbands, Cathy and I biked more than 200 miles while on vacation in Florida last January.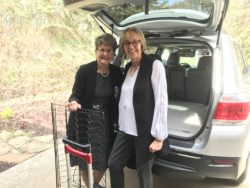 My friend Jacki went with me to two of my speaking events recently, driving me and helping me haul all of my books inside, set them up, and then sell them. I consider that "going the extra mile" for friendship's sake.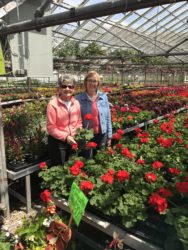 We also went to a greenhouse together and bought flowers for our gardens. They were so beautiful and colorful and fragrant, it was like taking a mini-vacation. It's so much more fun to do everyday things like this together.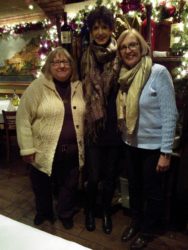 And these are my faithful writer friends, Jane and Cleo. We have been meeting to share our lives and critique each other's writing for more than 25 years. When we began, none of us were published—and none of our children were married. Now we all have multiple books to our credit—and multiple grandchildren!
We have celebrated each publishing milestone and cried with each other through our many disappointments. We brainstorm plots and titles together—and we laugh a lot. And eat a lot. This Indian restaurant is one of our favorite places to go for our writers' meetings.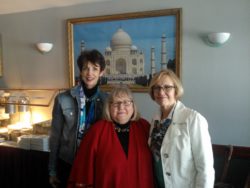 Where would any of us be without our friends? I know my life would be much lonelier without them. If you have friends who are dear to you, I hope you'll take a moment this week to tell them how much they mean to you, and to celebrate God's gift of friendship.