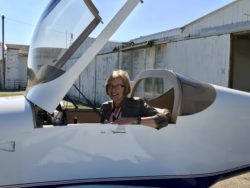 It's nearly time for lift off! I'm happy to announce that my novel, "Fly Away" is coming soon on June 15 in both print and ebook versions. Since one of the main characters, Mike Dolan, is a pilot who owns a small, charter airplane business, I visited a local airport with my friends Susan, Bruce, and Doug Formsma to celebrate. Doug was kind enough to let me pose in his airplane.
The first thing you'll notice about "Fly Away" is that it takes place in 1987. That time period is too new to be a historical novel like most of my other books, but too old to be a contemporary novel. That's because "Fly Away" was one of the very first books I wrote when I was just starting to dream of being a writer. The story came to me so effortlessly that I remember writing it out longhand on a yellow legal pad. Later, I typed it into my computer and saved it on several 3 ½ inch floppy discs. It was published by Beacon Hill Press in 1996 and has since gone out of print.
I remember very well the genesis of the story. Within a short period of time, our family struggled with a series of losses. My father, a World War II veteran like the main character in "Fly Away," was hospitalized with a stroke and died a few months later at the age of 62. Dad had been caring for my grandmother so she had to be moved to a nursing home. My father-in-law also had a stroke and was moved to a nursing home because my mother-in-law was diagnosed with terminal colon cancer. Mom and Dad Austin both passed away within a few months of each other.
My husband and I and our three children drove down to Michigan from our home in Canada to take care of my mother-in-law in her final weeks so she could remain at home rather than be hospitalized. Our daughter Maya was a newborn when we left Canada and one month old when Mom died. We took care of Mom and Maya simultaneously, one at the very beginning of her life, the other at the end; one growing stronger each day, the other weaker. After just experiencing the miracle of birth, we learned that death is also one of God's holy moments.
As you read "Fly Away" you'll probably see how my own thoughts and emotions became intertwined with my plot and characters. The book deals with dying and loss, but I didn't want it to be a sad book. All of my beloved family members had loved life and lived it well. They taught me that our faith in Christ gives us the strength and courage we need to face whatever plans He has for us—even when it means saying goodbye.
Telephones still had cords when I wrote "Fly Away" and hung on kitchen walls. Shag carpeting and Star Wars figures were all the rage. But I hope you'll find that the themes of God's goodness and love are timeless. Enjoy!