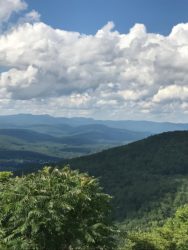 I just returned from a wonderful visit with my mother and my sister Peggy and her family in the little village in New York State where I grew up. The town is nestled in the Shawangunk Mountains, and seeing the mountains again is like seeing old friends. I always forget how much I've missed them while living in the flat Midwest. Peggy and I had a chance to go on several hikes while I was home, taking her new rescue dog, Franny, with us.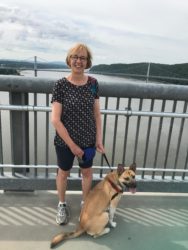 We hiked around a mountaintop lake.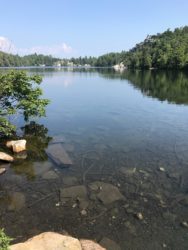 And admired the vistas of the valley, below.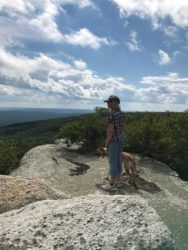 We let Franny swim in this creek and she "shared" the cool water with us as she shook herself dry.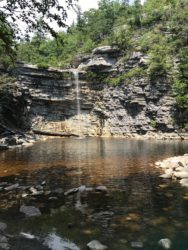 We hiked across the Hudson River on a former railroad trestle that has been converted into a rails-to-trails pathway called "Walkway Over the Hudson."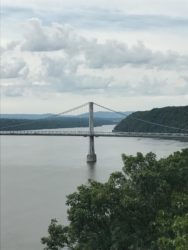 Hiking in the woods and enjoying nature always restores me. When I take time to look at creation, I'm reminded of what a glorious God we serve. Seeing His infinite creativity renews my own urge to create. And being with my family—the people who know me the best and love me the most—helps me remember who I am and where I've come from.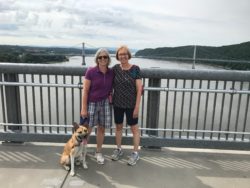 It puts my lifelong journey into perspective and helps me see how God has shaped me along the way. I returned to my home in Michigan refreshed and ready to dig into the work that God has given me to do. My prayer is the same one that Moses prayed: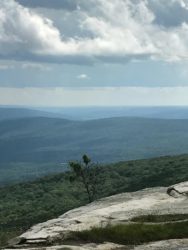 "Lord, you have been our dwelling place throughout all generations. Before the mountains were born or you brought forth the earth and the world, from everlasting to everlasting, you are God. . . .Teach us to number our days aright, that we may gain a heart of wisdom. . . . Satisfy us in the morning with your unfailing love, that we may sing for joy and be glad all our days. . . . establish the work of our hands for us—yes, establish the work of our hands." (Psalm 90)