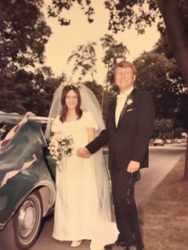 Last week, my husband Ken and I celebrated our wedding anniversary, and it was an almost-big one—47 years. We are inching our way toward half a century. And what a crazy, exciting, 47- year ride it has been! When Ken proposed to me he said, "If you marry me we'll probably never be rich, but we'll see the world." And he was right. We met while attending college in Michigan, got married in my home state of New York, and moved to New Haven, Connecticut where we celebrated our first anniversary.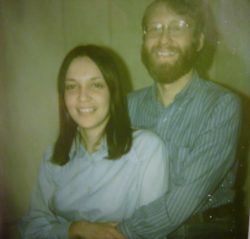 Our very memorable third anniversary was spent camping in a pup tent in Maine and having to evacuate as a hurricane swept up the Atlantic coast. On our 5th anniversary we were living in Bogota, Colombia and trying in vain to find American-style pizza for the celebration. Anniversary #10 was spent in Indiana in 98 degree heat with no central air-conditioning in our tiny, three-bedroom house. We went to the opposite extreme for anniversary #13, living in Thunder Bay, Ontario, Canada, where the weather starts turning frosty in August. And we celebrated # 15 in Winnipeg, Manitoba, Canada, where the mosquitoes will carry you off as hostages in late August. Twenty of our most recent anniversaries were celebrated in the Chicago area, which has the best pizza in America, by the way. And now, after many vacations and trips to far-flung places, we just spent our 47th anniversary relaxing on our beach in Michigan.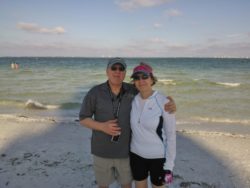 Back when we were newlyweds and needed a car, Ken and I decided to splurge on a little two-seat, burgundy-colored, Triumph Spitfire convertible. We drove that little car all over the country, including a memorable cross-country trek from Connecticut to Anchorage, Alaska where Ken performed for the Alaska Festival of Music.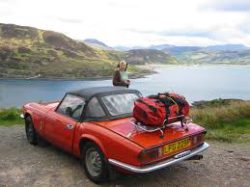 By the time we reached our sixth anniversary, our son Joshua had just been born, and the sports car had to be traded in for a more practical vehicle. What followed were many wonderful, hectic years spent raising our three children, helping them finish school, reach their dreams, and find jobs and spouses. And now Ken and I are alone again, and that's kind of nice, too. When we first became empty-nesters, we would gaze across the dinner table at each other and jokingly say, "Hey, I remember you!"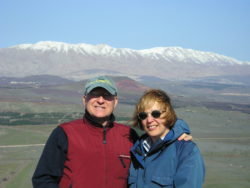 About a week ago, Ken and I were out for a morning walk when we spotted a cute little second-hand, burgundy-colored, Mazda Miata convertible for sale. Wouldn't it be fun, we thought, to return to our early years of tooling around the country together, side-by-side with the top down? It didn't take much to convince each other, and we bought the car as our "almost-fiftieth-anniversary" present to each other.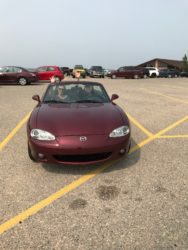 We were barely out of our teens when we met and married, so we've had plenty of time to live, love, and grow old together. We began as best friends and still are. Romance is great, and every marriage needs a strong, healthy dose of it. But there's a lot to be said for friendship, too—enjoying each other and sharing hobbies and interests. And while I don't think we're crazy enough to drive all the way to Alaska again, I'm looking forward to some surprising new adventures in our little sports car as we approach our fiftieth year. So, happy anniversary, Ken! I can't wait to see where we end up next.