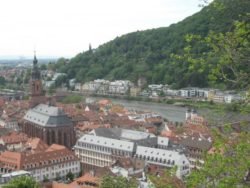 By the time you read this blog, I'll be in Germany on a book and speaking tour. I know, right? I'm so blessed to have this incredible opportunity! I would love to bring you along with me on my journey, but since that isn't possible, I'm going to let the two sisters from my newest novel, "Where We Belong," stand in for you.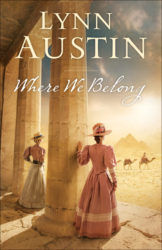 If you've read the book, you know how much Rebecca and Flora Hawes love to travel, even though they lived in the 1890s when travel was much more challenging. Their trans-Atlantic Ocean voyage would have taken weeks, compared to my 9-hour flight. And they probably would have packed their clothes in something like this steamer trunk—which weighs at least 40 pounds empty. (There goes my weight limit!)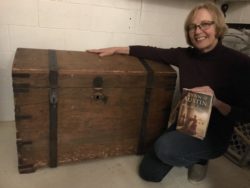 Granted, the trunk is a lot roomier than my suitcase, but ladies' dresses and petticoats and bloomers took up a lot more room back then than my clothing does. Even so, I'm having a rough time cramming enough clothes and shoes and toiletries for two whole weeks into my suitcase.
You can stay connected with the sisters and me on Facebook and Instagram while we're on our journey. I'll be posting pictures of some of the fun things I'm doing and seeing. You can expect to see the sisters photo-bombing my pictures. I especially love to note the differences between our two cultures, and some of the ingenious ways people do things in Germany. Here's one of those differences—these crazy electrical plugs!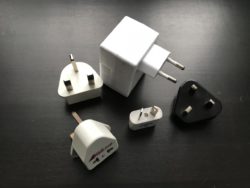 If you have any questions you'd like to ask me along the way, I'd love for you to send them to me in the "comments" section and I'll try to answer you. It will be fun!
What I'm looking forward to most of all is meeting some of my wonderful German readers. Even with our cultural and language differences, the bonds of fellowship are so strong. I love talking with them about their faith journeys and the spiritual lessons they've learned along the way. I always come home so blessed and encouraged.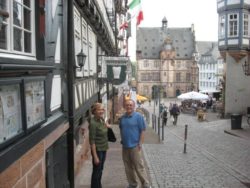 If you think of it, please pray for my husband and me. For safe travels, to begin with. It's a l-o-n-g flight across that ocean! And the cars really do drive 100 mph on the autobahn! Then there are the challenges of jet lag, and the cumbersome process of speaking through translators. But most of all, please pray for all of the people I'll be meeting—that their hearts and lives will be touched by God's love. I'll be speaking at women's conferences in the cities of Gunzenhausen and Kassel, as well as in more than a dozen smaller venues. I can't do it without God's power and strength.
Jesus told His followers to "Go into all the world and preach the good news to all creation" (Mark 16:15). My way of obeying that call happens to be through writing and speaking. But each one of us is called and gifted to be His hands and feet and voice in our own unique way. May you be filled with His power and strength as you serve Him today.