I had no idea! When I asked my dear friend, Jacki Kleinheksel, to record the audio version of my novel, Fly Away, I had no idea how much work would go into making it. Fly Away has been out-of-print for several years but I recently made it available again in print and e-book formats. Many of my readers also enjoy listening to recordings of my stories, so I wanted to make an audio version especially for them. With Jacki's extensive background in drama and musical theater, I figured she would be the perfect person to record Fly Away—and I was right!
Jacki has been active in musicals and community theater productions nearly all her life. Her debut, she told me, began in third grade when she walked down the aisle at church in her bathrobe for a Christmas program, portraying one the three kings. She was hooked! Her early career involved starring in talent and variety shows in junior high where she always volunteered to sing a song. Starstruck by Hollywood, Jacki's love of theater was launched when she won the leading role in Guys and Dolls in high school.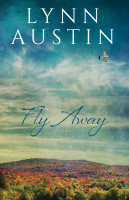 What followed were years of fun and hard work, performing in plays and musicals as part of community theater groups. Her favorite role? Performing Anna's soliloquy from The King and I. "I loved that role!" Jacki told me. She especially loved performing characters who were multi-faceted. "There is such joy in working in a theater production with a good script and an excellent director who brings out the best in you. And I love the teamwork of performing with others." Jacki has also done a one-woman show portraying blind hymn-writer, Fanny Crosby. She performed the play 24 times— "With my eyes closed, since Fanny was blind."
Fly Away was Jacki's first audio book. "I loved the challenge of being able to emote 27 different characters." (I wrote the book and I had no idea there were that many!) She read through the book three times in preparation; first for the pleasure of the story. The second time to make notes and a list of all the characters. The third time she read it aloud, rehearsing all of the characters' voices. Once she had a sense of them, she divided the book into 4 parts so she could record one part each day. The night before each recording session, she would practice reading that section again. The first studio session took 4 ½ hours. The longest day took 8 hours. At the end of each day, she would go home and review the next portion. "It was exhilarating and exhausting at the same time!"
"The biggest surprise was how still I had to sit. Every sound showed up, including turning the pages. It was like a play without costumes or scenery or makeup—and I was the whole show!" There were do-overs if she made a mistake, something you don't get in live theater. Her only audience? Her husband Paul and the sound engineer. Would she do another recording? "Absolutely!"
I've listened to recorded versions of some of my other novels and I haven't always been happy with the way the actresses portray my characters. But Jacki's narration was spot-on perfect! She put so much emotion into the ending that she made me cry—and I wrote the book! I am so thankful for all her hard work and professionalism, and I'm thrilled to announce that readers can now purchase the audio version of Fly Away. I know you're going to love it!