The August day, forty-eight years ago, was hot and sticky. I curled my long hair before leaving home but the humidity uncurled it by the time I reached the church. It didn't matter. Nothing mattered except that I was about to marry my best friend.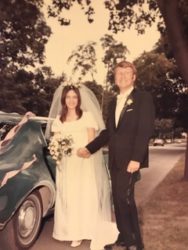 It was a simple wedding. Ken was starting graduate studies at Yale so we didn't have a lot of money. My sister Bonnie, my maid of honor, sewed my wedding gown and all of my bridesmaids' dresses. My sister Peggy and girlfriend Ann were my bridesmaids. Ken's fraternity brothers were his groomsmen.
My parents prayed for me before the ceremony began, and Mom nearly brought me to tears as she thanked God for "loaning" me to her for the past twenty years. Dad was teary-eyed and very nervous about giving me away. I was the first of his three daughters to marry, so this was new to him. But I saw Ken waiting for me at the end of the aisle and I couldn't stop smiling.
It wasn't a "picture-perfect" wedding by any means. The heel of Dad's shoe got hooked on my veil, and as he walked back to his pew after kissing me goodbye, my veil went with him. I scrambled backwards down the aisle to keep it from tearing off my head, whispering, "Dad! Dad, stop!" He thought I was changing my mind.
Ken and I gazed at each other, holding hands, as we spoke our vows—the wonderful old-fashioned ones that promise "For better for worse, in sickness and in health, until death we part." Then the pastor dropped Ken's wedding ring and it made a lovely, pinging sound as it bounced down the three wooden steps from the altar to the aisle. Our best man chased after it.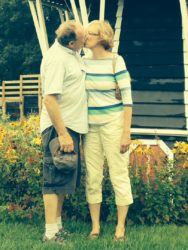 We knelt down and the pastor laid his hands on our heads as he prayed for us. But my headpiece had real roses in it, and I could feel the thorns digging into my scalp as his hands pressed down. I envisioned trails of blood coursing down my brow, and wondered why on earth the florist had left the thorns in! But I remember what he said as he prayed for us—that God would bless our marriage and make it endure as an example of what a strong marriage in Christ can be. Forty-eight years later, I think his prayers have been answered—in spite of the thorns.
Our guests tossed rice as we left the church. My apologies to the environmentalists but that's what we did in the 70s. The friend who drove us around town in his car, honking the horn, wasn't familiar with the city and got hopelessly lost. We had to stop and ask some guy who was mowing his lawn for directions back to the church.
Our reception was in the church basement. My sisters and I had decorated the hall the night before with crepe paper streamers. Mom made the food, nothing fancy, just salads and buns and cold cuts. A woman we knew baked the wedding cake. I thought everything was perfect.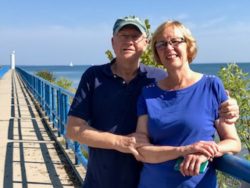 We were about to spend the next three years as poor, starving graduate students, so when Ken found a really great bargain package for our honeymoon, he decided to splurge. We soon learned why he had scored such a great deal when we landed in the Bahamas. No one goes there in August because it's much too hot! We didn't care. We had a nice room in a nice hotel and we were husband and wife at last! We also didn't mind that Ken had cashed all our wedding gift checks to pay for it. Never mind that we couldn't afford a toaster or a coffeemaker for a few more years.
We don't have many photos of our wedding. The photographer we'd hired had a heart attack a few days before the wedding, and we called everyone in the phone book before finding a replacement. The man left town soon after giving us our photo proofs, and it was little wonder why. Most of the photos were horribly out of focus. It didn't matter. The memories of that day are engraved on my heart.

When I see the time and effort and money that go into weddings nowadays, our simple little affair seems laughable. But it was all we could afford and we were thrilled with it. Ken and I had dated for two years in college before we married, and every night when we kissed goodnight outside my dormitory we would say, "We're another day closer!" And on August 29, 1970, we had finally reached that day!
So, Happy 48th Anniversary, to us! If I could do it all over again, I wouldn't change a thing! (Except maybe the thorns.)