I've been contemplating endings, lately, as I near the conclusion of my current work-in-progress. After 330 manuscript pages and more than 100,000 words, the end is in sight. I'm still not exactly sure how the book will end, since I'm one of those crazy writers who makes up the story as I go along, rather than plotting it ahead of time. I figure if I can't guess what's going to happen (and I'm two-thirds of the way through writing it), then readers will be kept guessing, too. I hate predictable endings!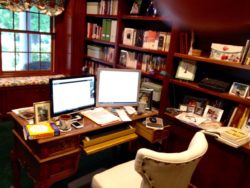 There are some important things that I do need to consider in order to finish well. Some of the essentials of a good ending that I've discovered over the years are:
1) The pace should be picking up, with the highest levels of emotion and drama.
2) There should be a sense of closure where I deliver on the "promise" that has kept readers engaged.
3) The end should bring a resolution and a release of built-up tension—the bomb is defused, the murderer discovered.
4) There should be a sense of accomplishment in the main characters' lives. Even if some of their problems remain, the central conflict is resolved and the characters come away changed.
All of this must happen as the story reaches a climax. Author Anne Lamott explains the climax as, "that major event…that brings all the tunes you have been playing so far into one major chord." As I lead up to that climax, I'll re-read my novel to look for all of those "tunes" so I can decide what that major chord should be. I'm not quite there yet, but I'm getting close. I want to finish well.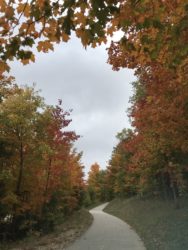 At the same time that I'm working on the big build-up to "The End," all of nature outside my office windows is doing the same thing. Everywhere I look, the trees and bushes are building up to a grand finale in dazzling technicolor before winter brings the end of another year. And from the looks of things, nature is finishing very well.
There is another ending that I don't like to contemplate very often, and that's my own end. A month from now, I'll be another year older. It's not one of those big decade birthdays but I'm getting close. It occurred to me that I'm also about 2/3 of the way through my life. Scary thought! And like my novel—and nature—I want to finish well.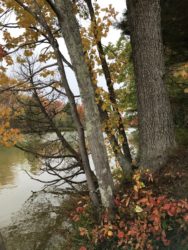 All of my life, I've been making up my story as I've gone along. There have been plenty of surprises, a lot of drama, a lot of emotion. And just like writing a novel, there are a few things I want to consider before I reach "The End."
1) The pace should be picking up. I want to be like the hero in my novel "Fly Away" who decided to live every day of his life to the fullest. He wanted to "die living."
2) I pray that my life will have a sense of closure. That I will have used my talents and gifts well in serving God, fully investing them as His faithful servant.
3) I don't want to leave any relationships in my life unresolved. I hope to live each day asking others for forgiveness, and extending forgiveness to them.
4) There will probably never come a time when every issue in my life is perfectly resolved, but I hope I can look back and see how God has been shaping me, using my struggles to make me more like Christ.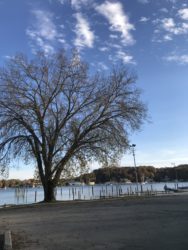 As I reflect on my life, I'm starting to see how all of the "tunes" God has given me have worked together to form a beautiful chord. Even those discordant melodies that seemed so unpleasant to me at the time, have worked together to accomplish God's plan. And I'm looking forward to learning some new songs in the years ahead, too.
But now, back to my novel. I'm very excited about finishing well.