I have the best job there is. I can live in an imaginary world all day, making up stories and creating new characters. I'm my own boss. I can set my own schedule and even work in my pajamas if I want to. But as great as this may sound, I don't live a glamorous life with TV appearances and book signings and huge royalty checks. It takes me a year to complete a book, and for most of that time my life is very routine—some would say boring.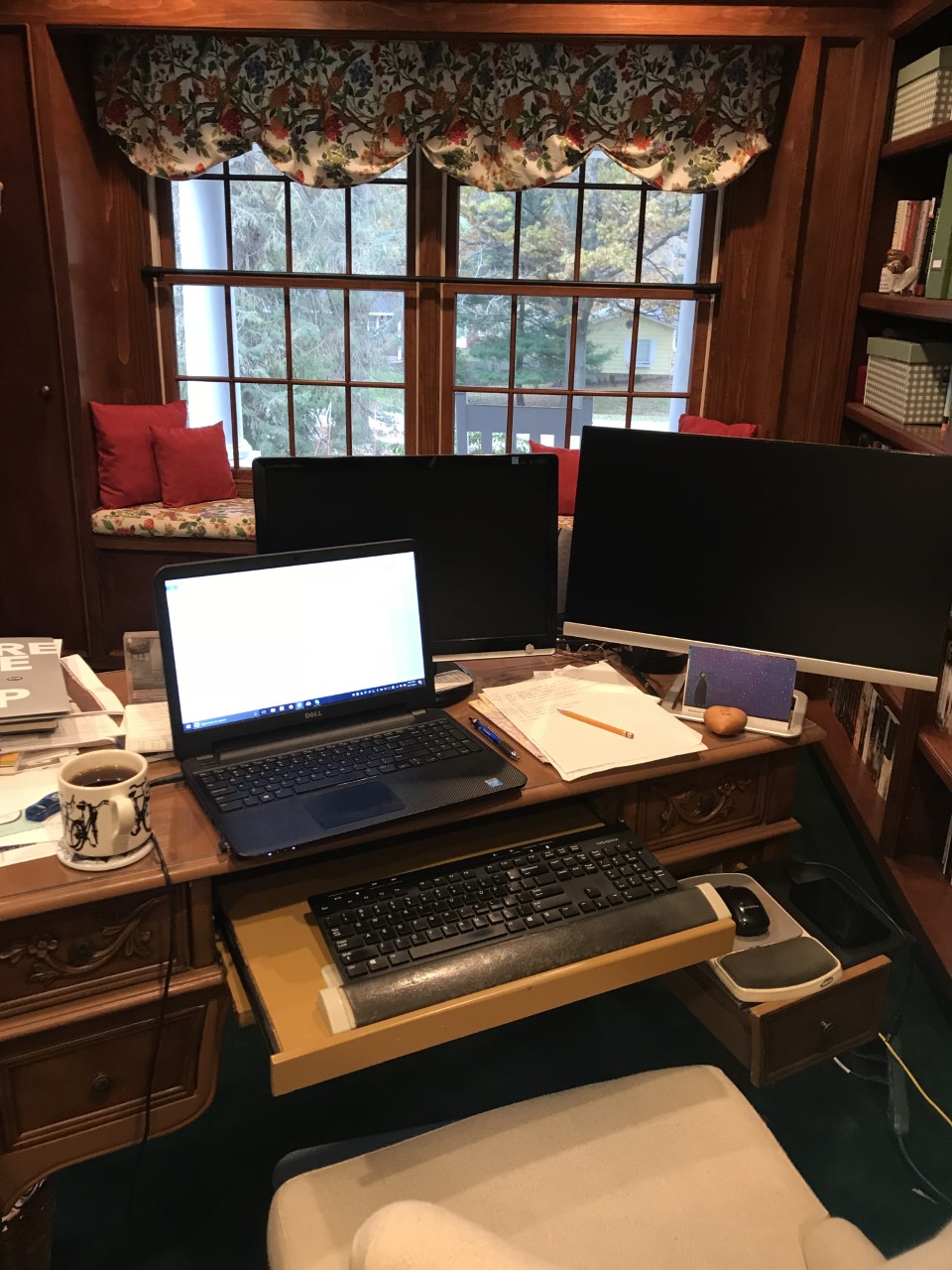 On a typical day, I'm mostly alone with no one to talk to except imaginary people. And even though I'm my own boss, I find that I'm much more productive if I stick to a schedule (and change out of my pajamas.) I get up early, eat breakfast, and then have my "quiet time," praying and reading my Bible. This daily time alone with God helps me remember Who I'm really working for and why.
After my quiet time, I go into my office, sit down at the computer, and write. (Of course, I also check my e-mail and Facebook and try not to get too distracted . . .) There are days when my writing goes so well that I lose all track of time. On other days, I have to discipline myself to write whether I feel like it or not. As my manuscript deadline draws near, I set daily writing goals—usually about five pages a day. I work this way for 5 days a week and sometimes on Saturday but I always take Sunday off—a Sabbath rest that refreshes me for work on Monday.
I recently completed another novel, and after time off for a much-needed vacation, I will soon begin the process all over again—researching then writing and rewriting another novel, finishing it one year from now. I'm sometimes asked why I do it. Why do I sit at my desk day after day, year after year, with no guarantee that my book will ever sell a single copy or will impact a single life? The short answer is, because I'm convinced that it's what God has asked me to do. Mind you, it took a few years for me to come to the conclusion that God had called me to be a writer. And it took eleven years from the time I first sat down to write until my first book was published. Believe me, there were many rejections and tears and much second-guessing during those eleven years. But I kept writing, with no guarantee that I would ever be published, no proof that I wasn't wasting my time.
I often thought of Noah. Many years passed from the time when he first heard God asking him to build an ark, until the first raindrops fell. He had no money-back guarantees while he hammered away. If it turned out that God hadn't spoken to him, then he would have wasted his life. But he took a chance that God was calling him, that the rain would come, and he obeyed. And Noah saved himself and his family.
I believe that God calls every one of us to serve Him—in a variety of ways, big and small, as many and varied as there are snowflakes. We can choose to actively listen for His call or not. Then we can choose to obey or not. Most of the time, we won't have any guarantee that our obedience will have an effect. Will we keep hammering? Keep writing? Keep praying for that person God put on our heart? Keep doing the daily task of showing up, doing our best, believing that we're acting in obedience with no proof, without a single raindrop falling?
If you're losing heart, wondering if your calling is real or if your work is in vain, consider Noah. Or Abraham. "By faith Abraham, when called to go to a place he would later receive as his inheritance, obeyed and went, even though he did not know where he was going" (Hebrews 11:8). And because he obeyed, Abraham became the ancestor of Jesus Christ. Please don't give up. Please keep hammering and obeying. I'm very glad that I did.