What I've missed the most during this virus quarantine, is being with family and friends—especially for holiday celebrations. We could invite some fearless souls for a get-together this Fourth of July and wear masks, use hand-sanitizer, and stand six feet apart. We could still have a picnic and play horseshoes on the lawn. Unfortunately, the fireworks that we usually watch from our beach on Lake Michigan have been cancelled this year. It would still be Independence Day, as my grandma used to call it, but somehow it won't seem the same.
Lately, I've been remembering the Fourth of July celebrations that my grandparents used to have at their home in the Pocono Mountains in Pennsylvania. A spring-fed creek ran through their wooded property, and Grandma and Grandpa worked hard to create dams and bridges and waterfalls and a little pond, which they stocked with brook trout. The creek attracted deer, birds, frogs, turtles, and the occasional garter snake. In the middle of this paradise, my grandparents built a picnic area beneath the trees with a fireplace for roasting hotdogs and marshmallows, a hammock for lazy afternoons, and a tree swing for their grandkids. If it sounds idyllic, it was!
Grandma was one of six sisters, and every Fourth of July they'd come with their extended families, bringing food for the feast. They would smile and tug my pigtails and say how big I'd grown. My grandparents also invited all their friends and neighbors and their families. There were many, many fascinating characters in this crazy group, including my very German Uncle Otto who played cymbals in a marching band. I could write several novels about all of these characters.
The food was abundant and delicious, especially Grandma's potato salad. The soda pop stayed cold in the creek—Grandma's homemade root beer was my favorite. We would chase frogs beside the brook and feed bread crumbs to the trout. We carved sticks with our pocket knives to roast hotdogs over the fire. We lit sparklers after dark, and when they were gone, we'd catch fireflies. Throughout the day, the adults laughed and ate and reminisced, and there was always a lap to sit on, someone to put iodine on a scraped knee.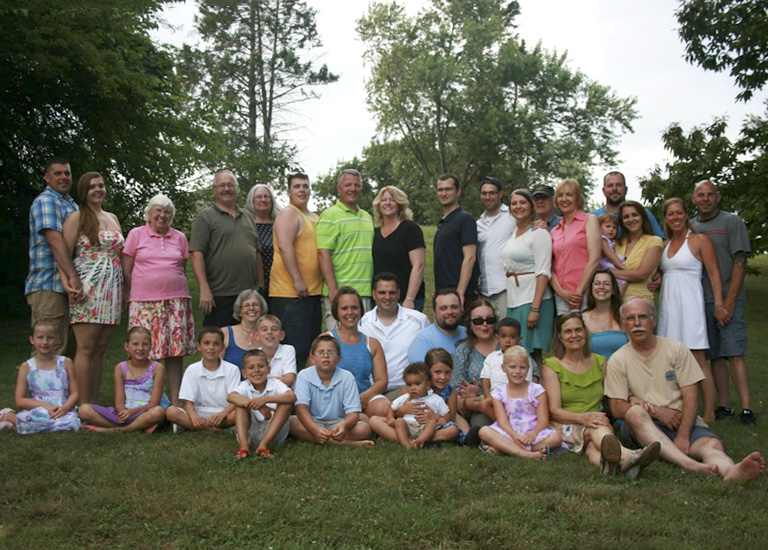 I've been trying to decide what it was that made those celebrations so memorable, and I think it was the feeling of joy I experienced at being part of something that was so much bigger than me—and yet I belonged! Everyone knew each other—and they knew me. They had shared joys and sorrows, good times and bad. They had experienced two world wars and the Great Depression together. And my sisters and I were part of the next chapter of their story.
My Great Aunts often told stories at these gatherings, and it thrilled me to know that their past was part of my story, my history. They'd talk about growing up on a farm without electricity or plumbing. They rode into town on horseback. Wild cats and panthers roamed the woods nearby. Grandma's oldest sister, Aunt Martha, remembered coming to America from Germany in the 1890s as a small child and landing at Ellis Island. She had brought a little doll carriage with her, and one of the immigration agents took it away from her, saying she wasn't allowed to have it in America. He set it aside, probably to give to his own daughter. But after her family had sorted through all the paperwork and were free to leave, little Martha marched over to her doll carriage and boldly wheeled it away. I'm proud to share her genes.
I wish I could recreate my grandparents' celebrations for my own grandchildren, but our family members are scattered across the country, with one uncle in California, another in Indiana, more aunts and uncles and cousins and second-cousins in Texas and Florida and New York State. I would love for my granddaughters to meet their feisty great-grandmother who is 94 and still full of life. She could tell them some stories!
I would love for my home to overflow like Grandma's did with people I have known through good times and bad, people who are glued to me with bonds of love. More than anything else, I long for my granddaughters to know they belong to a community that is much greater than just their immediate family, a community with a shared history, and with many more stories yet to be lived. It won't happen this Fourth of July. Family reunions on Zoom just aren't the same. I pray that next year will be different.
Until then, what are some creative ways that you'll be celebrating the Fourth of July with your loved ones?