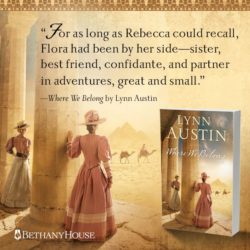 The excitement never grows old. In less than two weeks, my newest novel, "Where We Belong" will be out in bookstores. This is book #25 for me (unbelievable!) yet its release is as exciting to me as book #1 was. I have spent a year working on this manuscript, researching, writing and rewriting, editing and revising. It has required a lot of hard work and many long, lonely hours. And now, readers will probably devour it in a week or two. But that's okay. More than anything else, I want to give my readers an enjoyable story. Personally, I love to read a book that makes me laugh, makes me cry, and makes me think—don't you? I hope this one accomplishes all those things.
Chapter One begins in the Sinai Desert in the year 1890. Here are the first two lines, just to whet your appetite:
"Rebecca Hawes lay awake in her tent, convinced that the howling wind was about to lift her entire camp into the air and hurl it to the far side of the desert. The desolate wasteland of the Sinai Peninsula lay beyond her tent door, thousands of miles and a world away from her home in Chicago."
So, what is this book about? Here is a brief synopsis (without any spoilers. I hate spoilers!):
In the city of Chicago in 1890, the rules and expectations for Victorian women are strict, their roles in life limited. But sisters Rebecca and Flora Hawes are not typical Victorian ladies.Their love of adventure and their desire to use their God-given talents have taken them out of society ballrooms and delivered them to the Sinai Desert—and into the teeth of a sandstorm. Accompanied by Soren Petersen, their somber young butler, and Kate Rafferty, a plucky street urchin learning to be their lady's maid, the two sisters are on a quest across the desert, chasing rumors of an important biblical manuscript. As the expedition becomes ever more dangerous and uncertain, all four travelers sift through memories and adventures of their past, recalling the events that shaped them, and the journeys and providence that brought them to this very time and place.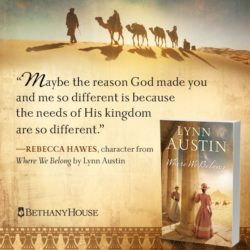 There is adventure and romance in this armchair journey into another era. But mostly it's the story of two unique sisters whose faith leads them to follow God along a very unconventional path. Thirty-three years ago, my life veered away from the ordinary when I left my teaching career to write books. It was a risk I'm glad I took.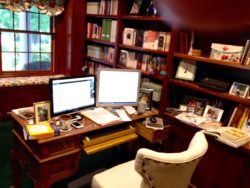 So how about you? Have you been on any unusual journeys as you've followed God? What risks have you taken?
Be sure to check my blog again in two weeks for a chance to win a free copy of "Where We Belong."