I've done some unusual things during the course of my writing life, but my upcoming bus tour next month will be a first. The idea came from my friend Paul, who thought readers would enjoy touring some of the interesting sites from my novel, "Waves of Mercy." The novel is set in the town of Holland, Michigan where Paul has lived most of his life, and it tells the story of the Dutch immigrants who founded the town in 1847. Paul happened to mention his idea to a friend from church who leads the 55+ Seniors' Group—and the "Waves of Mercy" bus tour was born.
I imagined maybe a dozen of us climbing onboard the church van for a spin around town. Ha! I had no idea how popular this tour would be! The group has had to hire two chartered buses carrying 56 passengers each—plus the church van. The "Waves of Mercy" tour will begin at the church with a lunch of Dutch pigs-in-the-blankets and pea soup, then we're off to see the sites. Here are just a few of them: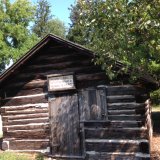 A typical settlers' cabin from 1847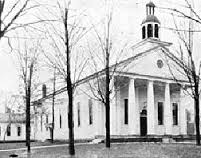 The first church built in 1856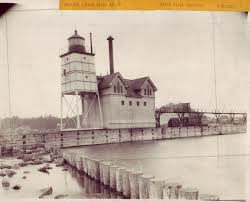 The original light house on Lake Michigan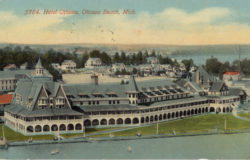 The Hotel Ottawa Resort on Black Lake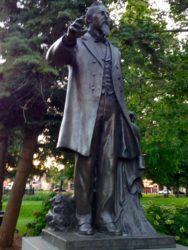 The town's founding father, Rev. Albertus Van Raalte
I've been trying to figure out what makes this tour so appealing to so many people. The sites we're visiting aren't unusual ones, but places that can easily be seen in Holland every day. I've concluded that it's the settlers' courage and faith that makes their story so compelling. They left their homeland of civilized cities to carve out a town in the wilderness because they longed for religious freedom. Their boat caught on fire and was delayed for repairs. The delay kept them from their goal and forced them to spend most of the winter in Detroit. They walked through knee-deep snow to reach the town site because there were no roads. They ran out of food and starved. Their first summer here, so many people died from malaria that they had to build an orphanage to house all the children. But they worked hard, cleared the land, and built farms and businesses. Then, only twenty-four years after the first settlers arrived, fire destroyed the town.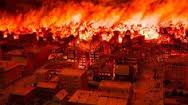 I'm guessing that many of us would have given up—or at least questioned where God was in all these disasters. Had He really called us to settle here or not? It's so easy to feel like our work is in vain when our carefully made plans start to fall apart. But the settlers' faith remained strong. Today, there are more than 70 churches in this town of 33,000 people. What an example of perseverance and faith! If they had a life-verse, I think it would be this one:
"Therefore, my dear brothers, stand firm. Let nothing move you.
Always give yourselves fully to the work of the Lord,
Because you know that your labor in the Lord is not in vain."
1 Corinthians 15:58
That verse will give us something to pause and think about on our "Waves of Mercy" bus tour.