One of the most exciting moments for me as an author is when I first get to see the cover design for my newest novel. There have been some that I have loved, some that were so-so, and a few that I've really disliked. My publisher asks for my input and ideas, of course, but I never know what the final outcome will be. It's up to the design team to choose an image and a "look" that best fits the characters, the story, the novel's tone, and its theme. Not an easy thing to do! How do you capture the essence of a complex, 400-page novel with multiple characters and story lines in a single, compelling picture?
They say "you can't judge a book by its cover," but I'm not sure that's true. I find myself doing it all the time. Some covers are so off-putting for a variety of reasons, that I'm not even tempted to read the back-cover copy to see what the book is about. Other covers look like books I've seen a hundred times before, making me wonder if the story is also one I've read a hundred times before. But then there are those very special covers that are so arresting that I want to turn to the first page of the book and start reading as quickly as I can. That's the kind of cover I always want for my books!
Well, I may be slightly biased, but I think the design team at Tyndale House did an extraordinary job with the cover for my newest novel, "Chasing Shadows." The book will be released next June, but in the meantime, here is a sneak peek, just for you . . .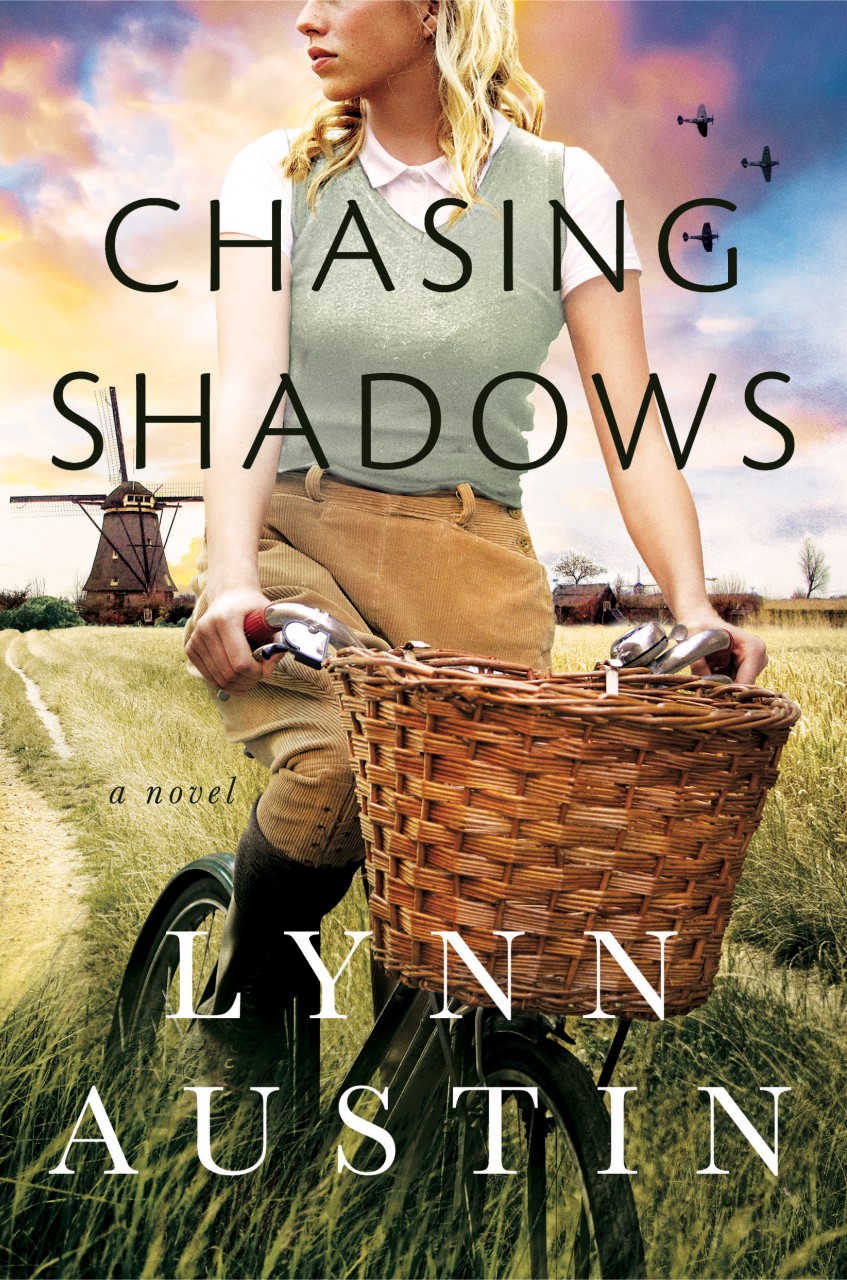 What do you think? Do you spot any clues that tell you what the book is about, or when and where it takes place? The windmill and flat landscape will probably tell you the novel's setting. And the three airplanes flying in formation across a stormy sky offer a hint of when it takes place. But what I love the most about this cover is the sense of movement and tension it portrays. This young woman looks like she has been on the move, and now something off to the side has captured her attention. She seems alert and perhaps a little uneasy, yet determined to push down on that pedal and continue her journey. I want to know her story, don't you?
If you guessed that the novel is set in the Netherlands during World War II, you're right. The young woman's name is Ans DeVries, and when the Nazis invade and occupy her nation, her life will change drastically. Along with Ans, there are two other extraordinary women of faith and courage in this story, Lena and Miriam, who also will be forced to make life-and-death decisions. I won't give away any more of the plot, for now, but you can read a preview of it on the final pages of my last novel, "If I Were You."
In the meantime, I would love to hear your opinion of the cover of "Chasing Shadows"—and of book covers in general. Are there things you like seeing on the cover—the main character's face, for instance? Or would you rather that her appearance be left to your imagination? Are there elements of a cover design that make you want to read the book? And anything that makes you decide to pass? I would love to know what you think about the saying, "you can't judge a book by its cover."