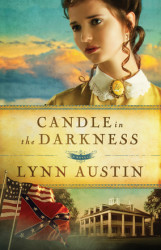 One of the questions authors are frequently asked is, where do our ideas come from. My answer? Everywhere! It seems different for me for each book. Since many of my readers have told me that Candle in the Darkness is their favorite book, here's the story of how that novel came about.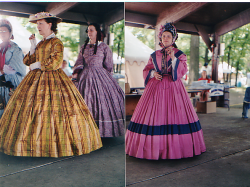 It started when my musician husband, Ken, performed at a Civil War re-enactment with the "Yankee Brass Band." I had never been to a re-enactment before, but as I wandered around the camp grounds and watched the mock battles, my creative juices began to flow. I interviewed dozens of participants and asked hundreds of questions. These re-enactors really know their history and are a treasure trove of information. The women gave me quite an education about the layers and layers of mysterious garments hiding beneath their voluminous skirts—and how they manage the privvy.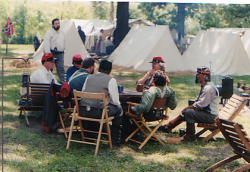 Filled with all this information and inspiration, I began researching the Civil War, planning a three-book series from three different viewpoints. The woman in the first book would be from the South, the second from the North, and the third would be a slave. Thanks to my local librarian, I found a diary entitled Richmond. During the War by Sallie Brock Putnam. This young woman lived in the Confederate capitol of Richmond,Virginia throughout the war, cheering enthusiastically for her beloved Confederate soldiers. She offers a day-by-day account of the fear she felt as the Union army advanced and how the sounds of cannon fire could be heard in the distance. Exciting stuff! She provided me with valuable information about which sites to explore on my research trip to Richmond.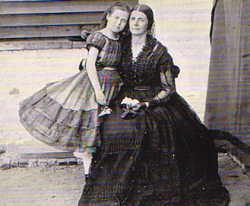 Another great resource was All the Daring of a Soldier by Elizabeth D. Leonard. She describes some of the amazing things that women did for both the North and the South during the war, including becoming spies. The woman in this picture ended up in prison with her little daughter for spying.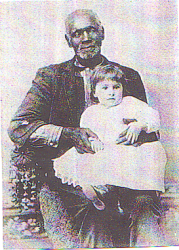 But the inspiration for my two main characters, Caroline and her faithful slave Eli, came from this photograph that I found during my research. The little girl is impeccably clothed in a white dress trimmed with lace; the slave's clothing is worn and threadbare. Yet the love and trust between the two is obvious in the way they are holding onto each other. I knew I had to tell their story.
I keep all of these photographs on a bulletin board near my desk—the pictures copied from books and the ones I take myself on my research trips. And from all of these ingredients, and the spark of an idea that began at a Civil War reenactment, Candle in the Darkness was born.